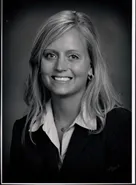 Dr. Jaclyn Benish
Dr. Jaclyn Benish was born and raised in a small town in northern Wisconsin. She received her Bachelor's degree in biology from the University of Wisconsin-Oshkosh in 2000 and her Doctor of Dental Surgery degree from Marquette University School of Dentistry in 2004.
She joined Dental Associates of Lake Mills in 2007 and has been an active member of the community since. She appreciates getting to know people from all ages and being able to help with their oral health.
She is an active member of the Jefferson County Dental Society, Wisconsin Dental Association, American Dental Association, Academy of Facial Esthetics, and Academy of General Dentistry.
She resides in Lake Mills with her husband and three children. When not working she enjoys traveling, hiking, sports, boating and hanging out with friends and family.