Invisalign in Lake Mills, WI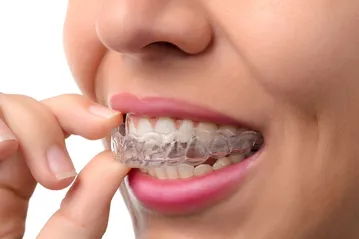 If your smile is crooked or misaligned, you may feel embarrassed showing it off in public. You've got a lot of options to choose from when deciding to straighten your smile. Invisalign is a great option to quickly and discreetly get the straight smile that you've always wanted. Dental Associates of Lake Mills in Lake Mills, WI, is here to help educate you about Invisalign and how it can help your smile.
What is Invisalign?
Invisalign is a set of clear aligners that can help push your teeth into the correct position to get the straight smile you deserve. With Invisalign, your dentist will first take a mold of your mouth to create custom aligners made for you and your smile. You will switch to a new pair of aligners every few weeks to slowly move your teeth into your perfect smile.
You'll wear your aligners for at least 22 hours a day, only removing them to eat, drink, brush, and floss. You will also see your dentist a few times throughout the process to ensure that you are progressing the way they intended. Treatment can take anywhere from 9-15 months, depending on the severity of your issues. Invisalign is also practically invisible, meaning that no one will be able to tell that you're wearing them in the first place. Since you will be taking your aligners off to eat, there are also no restrictions on what you can enjoy with Invisalign.
Contact Your Dentist Today!
Take control of your smile today by talking to your dentist about Invisalign to determine if this is the right solution to straighten your smile. Be sure to contact Dental Associates of Lake Mills in Lake Mills, WI to schedule an appointment as soon as possible. We are here to help you with any dental concerns.
If You Are Interested In Learning More About Invisalign Clear Aligners, Call Dental Associates Of Lake Mills In Lake Mills, WI At (920) 648-2331 Or In Marshall, WI At (608) 655-1199 For An Appointment Today!